FOR ALCOHOL & other
INDUSTRIES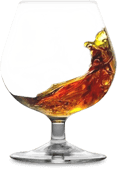 VILZIM products


VILZIM AMY
Thermostable, bacterial endoamylase hydrolyzes glycosidic links in the starch molecule and cleaves the starch polysaccharide to small molecule dextrins, rapidly reducing the viscosity of the starch suspension.

VILZIM GLA
Fungal glucoamylases hydrolyze glycosidic linkages in both branched and linear starch chains. This allows the two types of starch polymers - amylose and amylopectin - and the products of starch hydrolysis - dextrins to be completely broken down into glucose molecules, which are fermented by yeast into alcoholc.

VILZIM NSP
A concentrated, non-thermostable multi-enzyme compositions for the hydrolysis of non-starch polysaccharides (NCPs) obtained from a single fermentation of a non-genetically modified species of Trichoderma longibrachiatum (Trichoderma reesei). The activity of the enzymes xylanase, arabinofuranosidase, cellulase, glucanase, mannanase, pectinase and galactosidase, as well as the additional activities of the accompanying enzymes, guarantee the complete hydrolysis of NSP to simple sugars and fermentation by the yeast into alcohol.

VILZIM PRO
Fungal acidic endo - protease not specifically hydrolyze internal peptide bonds in protein molecules, thereby breaking down proteins into peptides and amino acids. Protein hydrolysis products promote the growth of yeast biomass, their physiological activity, and at the same time increase the yield of alcohol.
Lallemand products


Thermosacc DRY
An active dry yeast for use in fuel ethanol and beverage alcohol fermentations. Product contains a selected strain of Saccharomyces cerevisiae distillers yeast in a highly concentrated and stable form. Thermosacc Dry was selected for use in high-gravity fermentations at high temperatures and high sugar and alcohol concentrations. It works well at temperatures up to 38°C and alcohol concentrations of more than 20% by volume (16% by weight). High concentrations and temperatures improve productivity and efficiency by producing more alcohol in less time. Thermosacc Dry tolerates high levels of organic acids and is well suited to use in "zero discharge" fuel ethanol plants. Thermosacc Dry produces a low level of fermentation by-products and is suitable for many types of beverage alcohol.

Lactoside 247
Lactoside 247™ is an antimicrobial product for use in fuel ethanol fermentations. It contains a proprietary combination of antibiotics that inhibit the broadcast range of fermentation contaminants. The synergistic inhibition effect of multiple antibiotics provides greater inhibition at lower levels that other products and prevents the development of resistant contaminants. Eliminating infection prevents competition for glucose, reduced yeast, stress, and increases alcohol levels. LACTOSIDE 247 is stable over a broad pH range and is effective immediately. It can be added to the yeast propagator or to the fermenter at the beginning, middle or end of fermentation.

Nutri-Plex Plus
Nutri-Plex Plus is a proprietary yeast nutrient complex that promotes and sustains yeast cell propagation and viability, thus promoting an active and efficient ethanol fermentation. Supplementation of micronutrient fosters consistent trend improvement of fermentation performance over time.

Superstart
An active dry yeast for use in ethanol and beverage alcohol fermentations. It contains a selected strain of Saccharomyces cerevisiae distillers yeast in a highly concentrated and stable form. Superstart was selected for a rapid fermentation start and strong stress tolerance. Rapid starting helps prevent bacterial contamination and improves alcohol yields. Tolerance to temperature, pH, and osmotic stress also improves alcohol yields by maintaining higher yeast counts and lower glycerol concentrations. Superstart is long-lived and resilient in continuous fermentation conditions. Superstart produces a low level of fermentation byproducts and is suitable for many types of beverage alcohol.

DistilaMax
A range of products of active dry yeasts, selected from various feedstocks, fermentation conditions and aromatic profiles to bring you a palette to craft your spirit.

DistilaVite
Group of yeast nutrients products provide yeast with the correct nutrient balance for growth and reproduction, and maintain yeast in their rapid growth phase through more of the fermentation. Higher concentrations of more actively growing yeast produce alcohol faster, consume sugars more efficiently, and leave less residual sugar at the end of fermentation. Improved yeast health results in higher yeast counts, faster fermentations, more consistent alcohol yields and more consistent congener production.